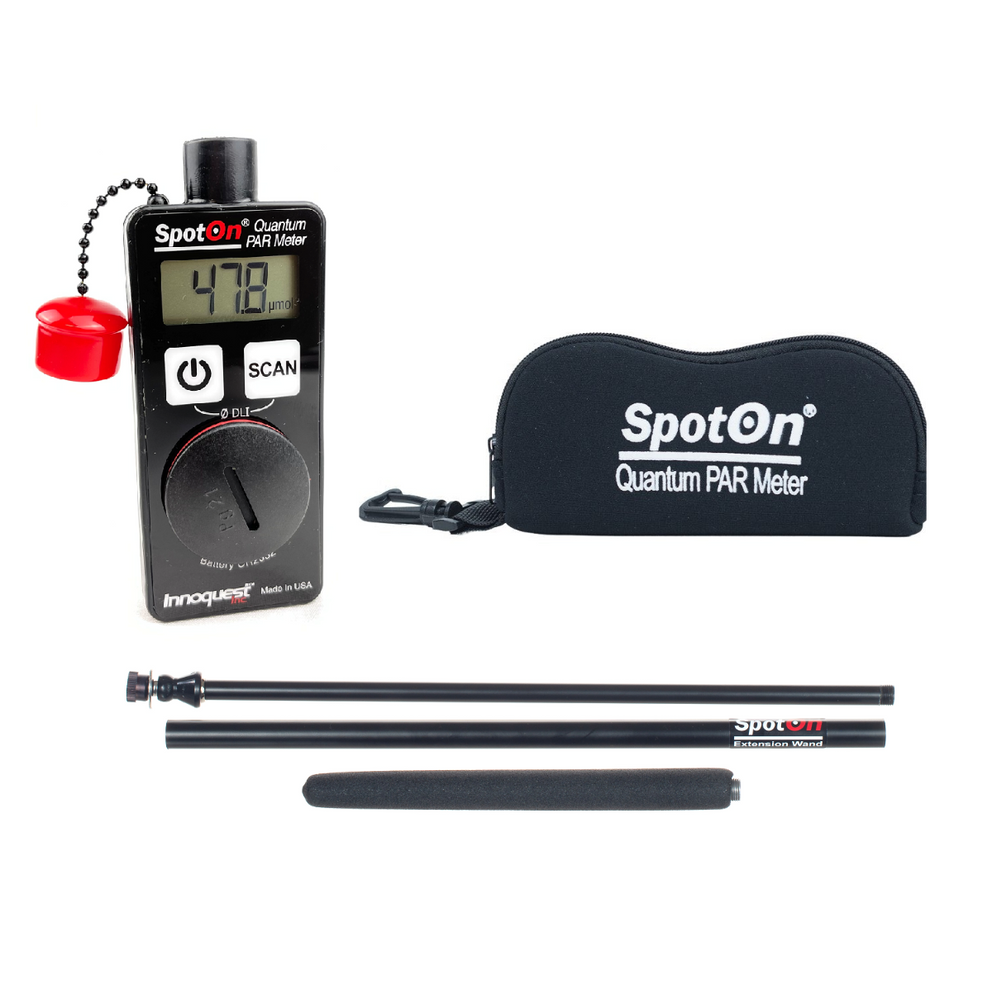 Innoquest
SpotOn Quantum PAR Meter Bundle with DLI Mode And 32" Three Piece Extension Wand by Innoquest
$ 395.00
$ 429.00
Our Story: Forever Green is the largest US distributors of SpotOn products. We ship direct from our warehouse (no drop shipping). 60 day returns with free expedited ground shipping to the lower 48 states. And low cost expedited shipment worldwide. This highly precise meter provides scientifically accurate Photosynthetic Active Radiation (PAR) light readings under any light source, including LED. And with the purchase of the optional wand, you can get even more accurate readings.Accurate PPFD Light Readings From Any Light Source: Full sun to full shade indoors or outdoors. Artificial light sources (LED, High Pressure Sodium, Metal Halide, Florescent, Halogen…). Three Modes Of Operation: Instant Spot Measurement mode for PAR light readings. Scan mode for quickly averaging PAR over an area. DLI mode shows Daily Light Integral on the LCD (no computer needed). Compares to Apogee Instruments Spectral Reading Range  Additional Benefits/Features 32" 3 piece extension wand included  Compact and easy to use Water and impact resistant Integral mounting plate acts as a stand, or can be used as a stake. Also includes lanyard or hanger hole for suspending the meter, and magnet mounts. 1/4-20 threaded hole for mounting on tripod or extension wands, selfie sticks. Includes and sensor cover and soft carry pouch.Learn more about the SpotOn PAR Meter on our YouTube Channel here: ~Technical Specs~QUANTUM PAR LIGHT METER SPECS:Range:PAR LIGHT: 0.0 to 6,500 μmol m-2 s-1DLI (Daily Light Integral): 0.0 to 560.0 moles m-2 day-1Display Resolution:PAR LIGHT: 0.1 μmol m-2 s-1 from 0.0 to 99.91 μmol m-2 s-1 from 100 to 6,500DLI: 0.1 moles m-2 day-1Accuracy: +/- 5% (each meter is calibrated to a NIST traceable light sensor on a broad-spectrum light source)Azimuth Error: +/- 1% over 360°Daily Light Integral (DLI): Calculated continuously from light readings every 3 minutesWater Resistant: IP-65 rated for use in rain, irrigation, and condensing environments (do not submerge)Operating Environment: 32-130°F(0-55°C) with 0-100% RH condensing okBattery: CR2032 3v coin cell lithium included (2-year battery life)Size & Weight: 1.75in(4.5cm)W x 5.75in(14.6cm)L x .85in(1.8cm)D0.17lb(77g)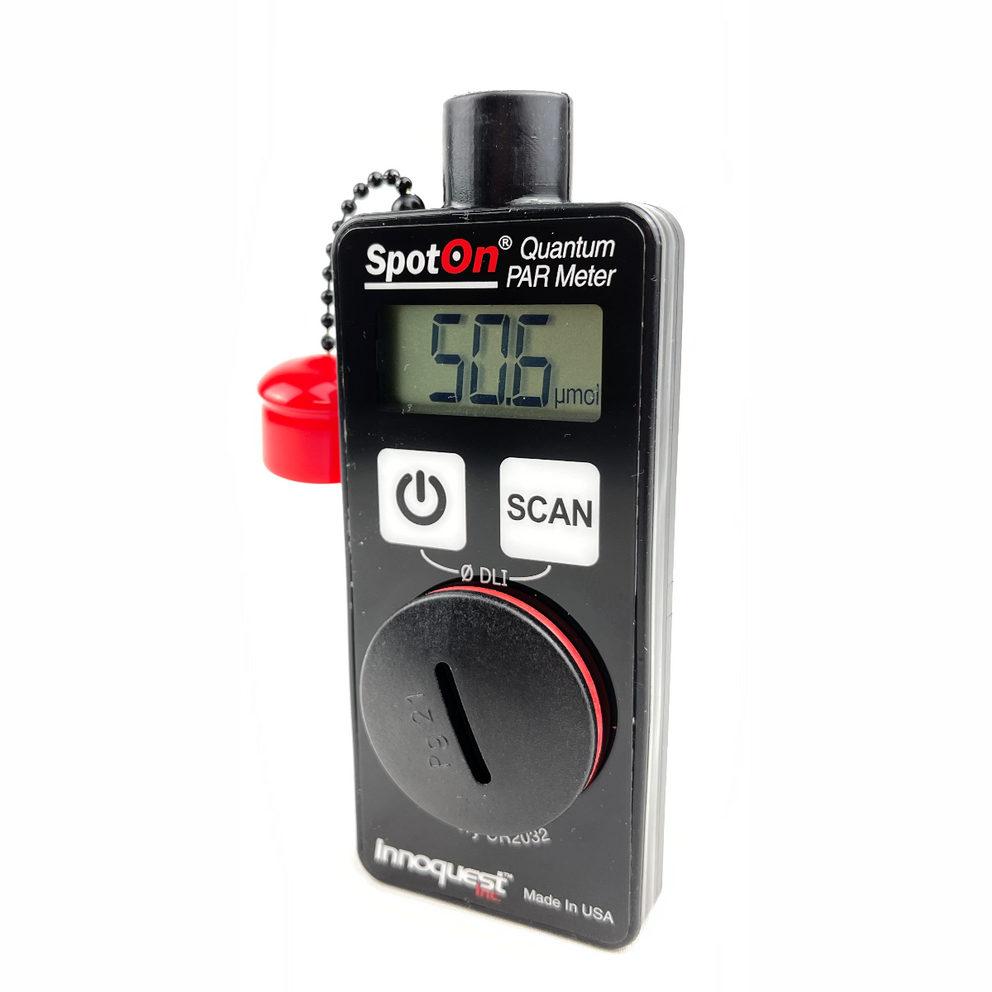 Innoquest
SpotOn Quantum PAR Meter measures photosynthetic light on plants.
$ 335.00
$ 335.00
This precise meter provides scientifically accurate Photosynthetic Active Radiation (PAR) light readings under any light source, including LED. And with the purchase of the optional wand, you can get even more accurate readings. Accurate PPFD Light Readings From Any Light Source: Full sun to full shade indoors or outdoors. Artificial light sources (LED, High Pressure Sodium, Metal Halide, Florescent, Halogen…). Three Modes Of Operation: Instant Spot Measurement mode for PAR light readings. Scan mode for quickly averaging PAR over an area. DLI mode shows Daily Light Integral on the LCD (no computer needed). Compares to Apogee Instruments Spectral Reading Range  Additional Benefits/Features Compact and easy to use Water and impact resistant Integral mounting plate acts as a stand, or can be used as a stake. Also includes lanyard or hanger hole for suspending the meter, and magnet mounts. 1/4-20 threaded hole for mounting on tripod or extension wands, selfie sticks. Includes and sensor cover and soft carry pouch. Learn more about the SpotOn PAR Meter on our YouTube Channel here: QUANTUM PAR LIGHT METER SPECS:Range:PAR LIGHT: 0.0 to 6,500 μmol m-2 s-1DLI (Daily Light Integral): 0.0 to 560.0 moles m-2 day-1Display Resolution:PAR LIGHT: 0.1 μmol m-2 s-1 from 0.0 to 99.91 μmol m-2 s-1 from 100 to 6,500DLI: 0.1 moles m-2 day-1Accuracy: +/- 5% (each meter is calibrated to a NIST traceable light sensor on a broad-spectrum light source)Azimuth Error: +/- 1% over 360°Daily Light Integral (DLI): Calculated continuously from light readings every 3 minutesWater Resistant: IP-65 rated for use in rain, irrigation, and condensing environments (do not submerge)Operating Environment: 32-130°F(0-55°C) with 0-100% RH condensing okBattery: CR2032 3v coin cell lithium included (2-year battery life)Size & Weight: 1.75in(4.5cm)W x 5.75in(14.6cm)L x .85in(1.8cm)D0.17lb(77g)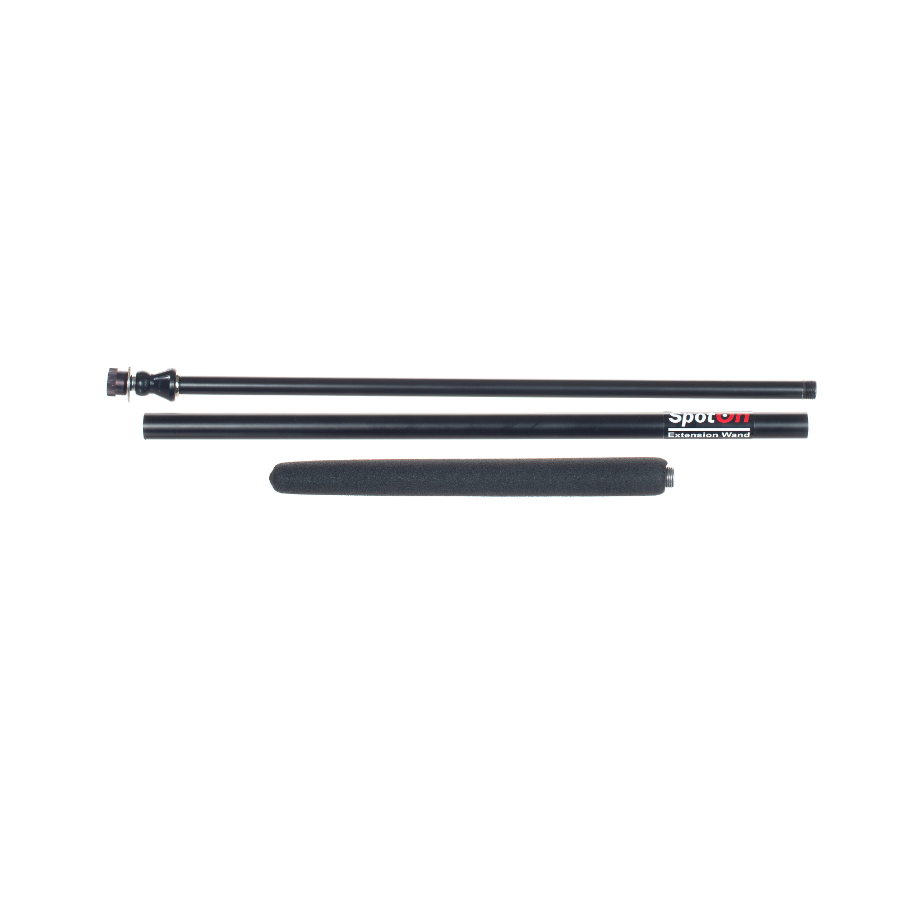 Innoquest
SpotOn Quantum Par Meter Extension Wand
$ 58.95
The SpotOn Extension wand for reaching further in to plant canopy to take readings with the SpotOn PAR meter. (SpotOn PAR meter sold separately)  Our rugged three piece steel extension wand can stand up to the harsh conditions of grow rooms. Threaded connections ensure the PAR meter will not twist when fully extended. The rubber handle grip helps keep a solid grip on your meter even with wet hands.  Our large LED screen is easy to read, even in brightly lit rooms at a distance of 3' from the meter. 
SAME DAY FULFILLMENT
(Orders before 11am pst)