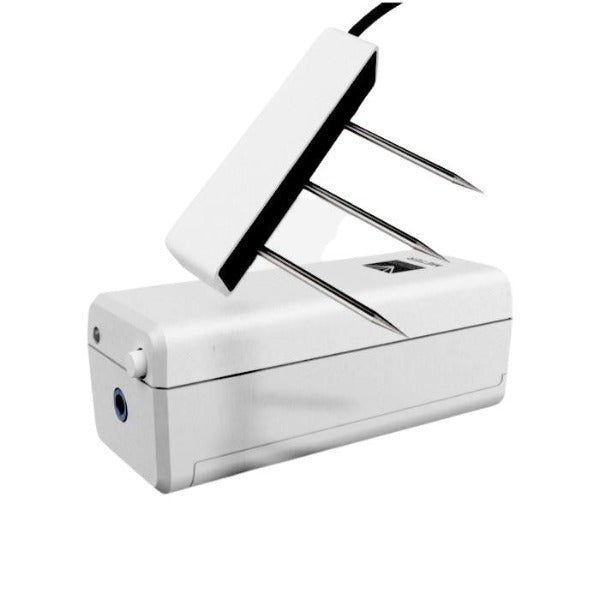 AROYA
Aroya Solus EC Meter. Soil Moisture EC...
$ 535.00
$ 549.00
Official authorized Aroya Solus Distributor. We ship direct from our warehouse. Free expedited ground shipping to the lower 48 states. Volume pricing available.  Dial in plant nutrition and watering schedules with SOLUS. No subscription fees or App cost. Free to use after purchase.  If you're looking for a high-precision EC spot measurement tool to help you maximize your yield and quality, look no further than the SOLUS. This innovative tool pairs a pinpoint soil sensor with a seamless app to give you all the data and insights you need to take your cultivation to the next level. With the SOLUS, you can easily and quickly take spot measurements of your substrate, without any datalogging required. So why wait? Get the SOLUS and start growing better today! DESCRIPTION Yield. Quality. You always want more. If you're a serious grower — even at home – you're never not ready for big data and analytics. To grow better, you must first know better, and there's no tool like SOLUS to mine your substrate for insights and help your harvest flourish. Use the SOLUS for easy and quick spot measurements of your substrate, no datalogging required and no information is retained. Water. Temp. EC. All impact the quality and yield of your crop. To level up your home growing requires precision at every stage, across every variable. With SOLUS, you're in control of it all. Reap a harvest full of insights right on your phone. Simple to download, and even simpler to detect your sensor.  Learn About EC  Mine the insights buried in your substrate The SOLUS Sensor Kit combines the industry's top soil sensor with a wireless analysis powerhouse. Together with the free SOLUS by AROYA app, they enable high-precision water content, temperature and electrical conductivity spot checks. The information SOLUS gathers helps growers maximize their substrate and unlock maximum yield potential. Learn more about the Solus on our YouTube Channel here:  Quality Legendary sensor technology The product of more than 20 years of soil moisture research and technological refinement, the TEROS 12 sensor is trusted by scientists, farmers and growers alike. The TEROS 12's ruggedized body lasts ten years or more. Its stainless-steel sensor needles slide easily into any substrate. It even ships with a free reusable sensor installation tool to help growers align the sensor perfectly for consistent, accurate measurements. INCLUDES One TEROS 12 Sensor  One ZSC Handheld Bluetooth Module For App Connectivity APP Download - search AROYA SOLUS on the Apple or Android App stores FEATURES Quick and easy WC, EC and temp spot-checks Secure – won't store data or monitor measurements over time Wirelessly pairs with any iOS or Android mobile device using Bluetooth Easy installation with installation tool Steel needles cut through the soil for better soil-sensor contact Robust, epoxy body for tough field conditions Dependable, long-life sensor Large volume of influence Ferrite core eliminates cable noise Device Operating System Compatibility and System Requirements The mobile device must be capable of using Bluetooth® Low Energy (BLE). The mobile device operating system compatibility is Apple iOS 10 or greater and Android OS 4.3 or greater. NOTE: Location services must be enabled to use the Bluetooth capabilities of the ZSC. This is a requirement set by the Android operating system (OS). TEROS 12 Operation Manual Download Link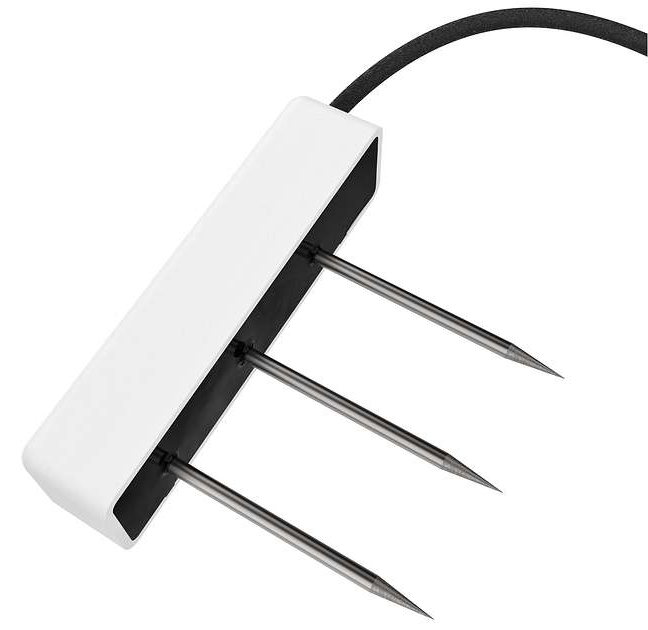 AROYA
Teros 12 Replacement Sensor for Aroya Solus...
$ 450.00
$ 450.00
Official authorized Aroya distributor. Items ship same/next day. Expedited UPS ground.  Product Replacement 3 in 1 sensor (Teros 12) for the Aroya Solus. Teros 12 sensor with standard 12" wire and universal twist lock connector for alternative connections.   Does not include the ZSC Bluetooth module which makes up the rest of the Solus product. New. Unused. Meter Group Inc, Made in the USA.  About Water. Temp. EC. All impact the quality and yield of your crop. To level up your home growing requires precision at every stage, across every variable.  Learn About EC Learn more about the Solus on our YouTube Channel here:  Quality Legendary sensor technology The product of more than 20 years of soil moisture research and technological refinement, the TEROS 12 sensor is trusted by scientists, farmers and growers alike. The TEROS 12's ruggedized body lasts ten years or more. Its stainless-steel sensor needles slide easily into any substrate. It even ships with a free reusable sensor installation tool to help growers align the sensor perfectly for consistent, accurate measurements. Includes One TEROS 12 Sensor  Connection: 4 pin M8 Male Twist Lock Connector.  Cable length: 12" From Sensor to Twist Lock Connection.      TEROS 12 Operation Manual Download Link 
SAME DAY FULFILLMENT
(Orders before 11am pst)