Trolmaster
TrolMaster Hydro X HCS-1 Hydro X Grow...
$ 312.50
$ 329.00
We're an official authorized TrolMaster distributor. Items ship same/next day direct from our warehouse using expedited ground shipping. Check todays promo codes to save even more.  The Hydro-X modular system is easy to install and expand, and can be fully customized to your needs. With the free TrolMaster App, you can access all system settings and alerts from anywhere, anytime. The Hydro-X system is compatible with most grow lights brands, HVAC systems, mini-split air conditioners, commercial dehumidifiers and humidifiers, as well as CO2 generators or regulators. So whether you're looking to maintain optimal growing conditions in your indoor garden the Hydro-X system has you covered. Includes the 3 in 1 sensor bundle and RJ12/16 cables. A turn-key environmental sensor system to tune up your gardens success.  This controller is as user friendly as it gets, and installing and setting it up is simple. It's compatible with just about every major grow light, HVAC system, dehumidifier/humidifier, and even CO2 system. You can use the free TrolMaster app, and achieve complete control of your grow room remotely, freeing you from the grow room and getting you back to doing the things you enjoy. What's Included With The Hydro-X System: Hydro-X Environment Controller (x1) 3-in-1 Sensor for Temperature, Light, and Humidity (x1) RJ12 Cable Set (x1) Male-to-Male 16ft RJ12 Cable (x1) Male-to-Male 4ft RJ12 Cable (x1) RJ12 T-Splitter (x1) Achieve Complete Grow Room Control With The Hydro-X With one piece of equipment, you can essentially control anything you need in your grow room. There are more than 17 separate types of control modules, granting you the ability to connect the Hydro-X to A/C's and HVAC  To put it simply, the TrolMaster Hydro-X Environment Controller With 3-in-1 Sensor is the most intelligent and versatile system on the market.  The Hydro-X System Features A Modular Design Another great feature of the Hydro-X Environment Control System is that you can control and customize every last detail of the controller. The modular design means you can configure the separate components in unique ways to create the best environment for your plants because every grow is different. You can control up to 512 different grow lights on two separate channels, and operate different systems simultaneously. Just about every lighting brand and product on the market is compatible with the Hydro-X with different adapters. LMA-11 for Phantom - Lighting Adapter P LMA-12 for Dimlux - Lighting Adapter D LMA-13 for Sun System - Lighting Adapter S LMA-14 Lighting Adapter F for most brands and also FGI brand LEDs LMA-15 for DLI - Lighting Adapter DLI LMA-T for ThinkGrow - Lantern Schedule Adapter F The LMA-14 Adapter can be used for 24 Drivers (LEDs) or 40 Ballasts with either the HCS-1 or HCS-2 Hydro-X controllers. Both the Hydro-X Controllers have 2 line lights giving the ability to control double the amount of each type of light (48 LEDs and 80 Ballasts).  
Trolmaster
TrolMaster Hydro X LMA-14 Lighting Adapter F...
$ 55.00
$ 58.00
The LMA-14 lighting adapter is specially designed to control a wide variety of lighting systems including FGI brand LEDs and HIDs. TrolMaster's Hydro-X system can control most of the horticultural lighting fixtures sold on the market today. Most light manufacturers provide the ability to control their lighting systems using what known as a low-volt control. That low-volt control can take many forms and communication protocols. TrolMaster makes several types of lighting adapters (LMA units) that allow the Hydro-x to control lights using their low-volt control option.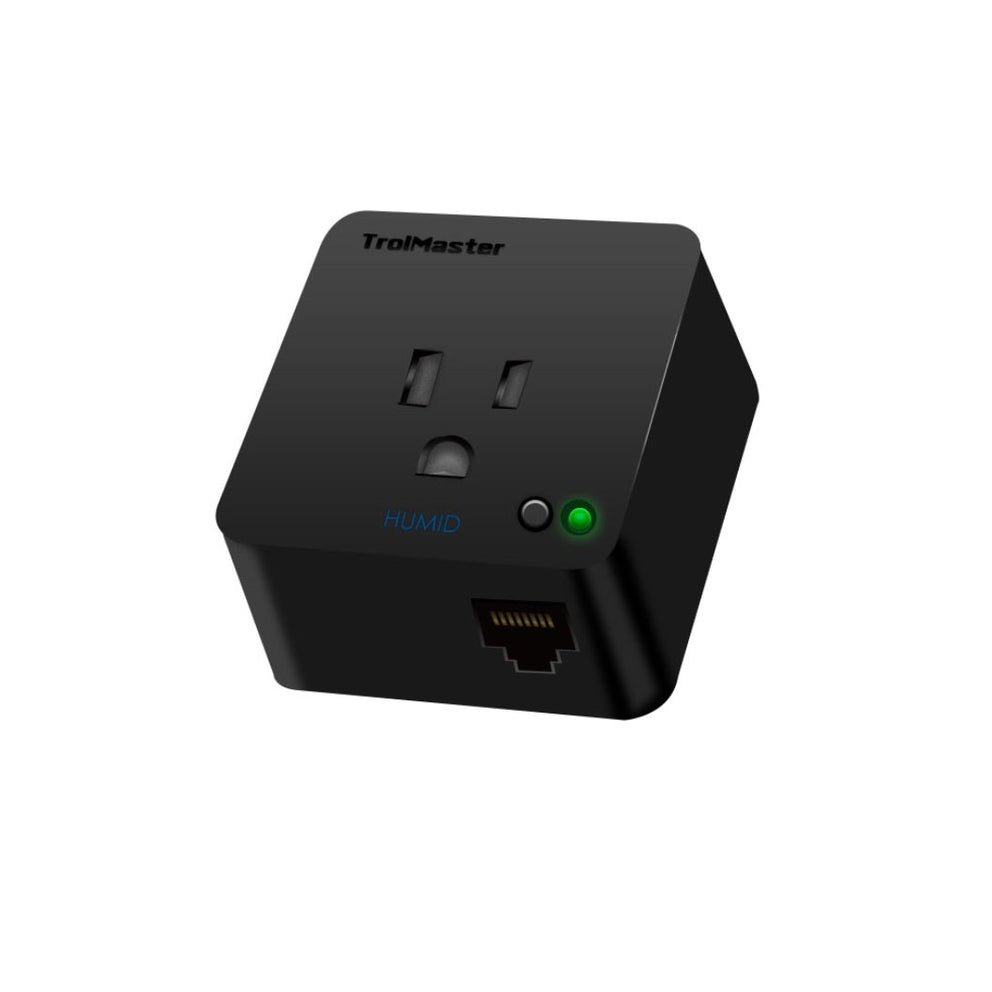 Trolmaster
Trolmaster Hydro X DSH-1 Humidity Device Station
$ 61.99
$ 70.00
  LED Power Indicator RJ12 Cable Socket Addressing Plug & Play The TrolMaster DSH-1 Humidity control / device modules allow user to easily connect and control standard humidifying or dehumidifying devices to the Hydro-x. The DSH modules are rated at 10-amps. *Use with dehumidifiers less than 7 amps to avoid current overload. Package Contents:  1 x Device Station 1 x 16ft RJ12 Cable 1 x 4ft RJ12 Cable 1 x RJ12 T-Splitter Specifications: Input Voltage: 100~240 VAC, 50/60Hz Output Current: 10A Output Voltage: 100~240 VAC, 50/60Hz Working Environments: Temperature 32-122°F, Humidity=90% Package Dimensions: 3.3(L) x 3(W) x 3.5(H) in G.W. per pack: 12 oz