FGI
Square 2 LED Grow Light. 220W. High...
$ 98.00
$ 229.00
Affordable, compact, extended far red spectrum LED grow light for plants of all types.    Growing tomatoe starts with the FGI Square 2   The FGI Square 2 is an excellent entry level LED grow light for those looking to give their plants the sun's energy. Unlike other lights on today's market that only provide certain colors needed by plant life (or lack thereof), this one provides all the necessary components: red, orange, yellow green and blue spectrum which together make up the building blocks for successful photosynthesis (and closely matches our sun).  If you are looking for an easy to use LED to learn how to grow any plant types indoors, look no further than the FGI Square 2. Well loved by gardeners everywhere. Designed in the USA by Forever Green Indoors in Seattle WA. Plant lighting LED light experts since 2013. Use the Square 2 to grow all types of plants. Placing the light closer to the plants provides enough energy to match the summer sun. Pulling the light further away, or using the built in dimming, provides the right energy for starts and seedlings.  Learn more about the FGI Square 2 on our YouTube Channel here:  The Square 2 is one of the more efficient grow lights on today's market, using only 220 watts! This means it can produce far less heat than higher wattage lamps. We designed it to deliver the perfect balance of light. It's full spectrum white LEDs help plants grow healthy while adding 5% total deep as well as far-red diodes for an extended range that will optimize your plant growth! Key Features:  Compact size: 20" x 20" x 3" Lightweight: 10 lbs  Built in dimming knob: Adjusts levels for young to mature plants.  Spectrum: Full spectrum plus 5% 660nm deep red plust 730nm far red LED diodes.  Includes: 110V power cord. Two clip and steel cable wire hangars. Product manual.    Technical  PAR Chart at 24" From Diodes The right kind of light can make all the difference for your plants. Flowers, fruits and other high energy use types require levels as high as 1000 PPFD - a measurement that approximates natural sunlight. Spectrum From Our Sun   We design grow lights to closely mimic natural sunlight (shown above). Although it's not possible to exactly duplicate a giant burning ball of hydrogen, we get as close as possible with the Square 2.   Spectrum from the Square 2     Don't wait! We have limited stock on this LED. Buy yours today.     ~Technical Specs~ProductDiodes (White) Brand name: Shenzhen LidedaNumber of pieces 360Total Diode Wattage Capacity (not actual draw) 300WMaximum Advertised Wattage 300Equivalent Wattage 1000CCT 4000KCRI 80CRIOther color Diodes (Red)Brand Name: Shenzhen LidedaNumber of pieces 96CCT NAWavelength 655-665nmOther color Diodes (FR) Brand Name: Shenzhen LidedaNumber of pieces 24CCT NAWavelength 730-745nmRatio mix white/red (%) 3:1 Projected Diode Lifetime (L-90) - in hours 50,000 hours Photosynthetic Light Measurements PPF Output* 436.1 umol/sPPF Efficacy* PPF 2.1umol/J PPFD Output 900 umols/ms at 24" below diodes Photopic Light MeasurementsLuminous Flux* 30342lmLuminous Flux Efficacy 151.7lm/w Other Input Power Watts 218Input Voltage 110VCord length 8' (2.44m, 18AWG )Plug type (note if bare whip) Molded 110V Product Dimensions Dimensions W x L x H (inches) 20x20x3.5Weight (pounds) 10Operating Temp range (F) -20℃ — +40℃IP rating (UL-ETL or estimated final UL-ETL)IP(UL- UL-ETL) IP20 Physical Dimensions Package Dimension W x L x H (inches) 24x23x5Inner carton (Yes/No) NOInner Carton Weight NOMaster Outer carton (Yes/No) YESNumber of pieces in Master Carton (1, 2, 3) 1Master carton weight (lbs) 2 Dimming / Tuning Dimming (Yes/No) Yes Product Warranty (against manufacturing defects) 3 years Warranty does not include coverage for damage caused by water or exposure to VOC's or electrical damage caused by voltage spikes. We recommend using a basic power surge suppressor such as those found on power strips to protect your light from utility power outages.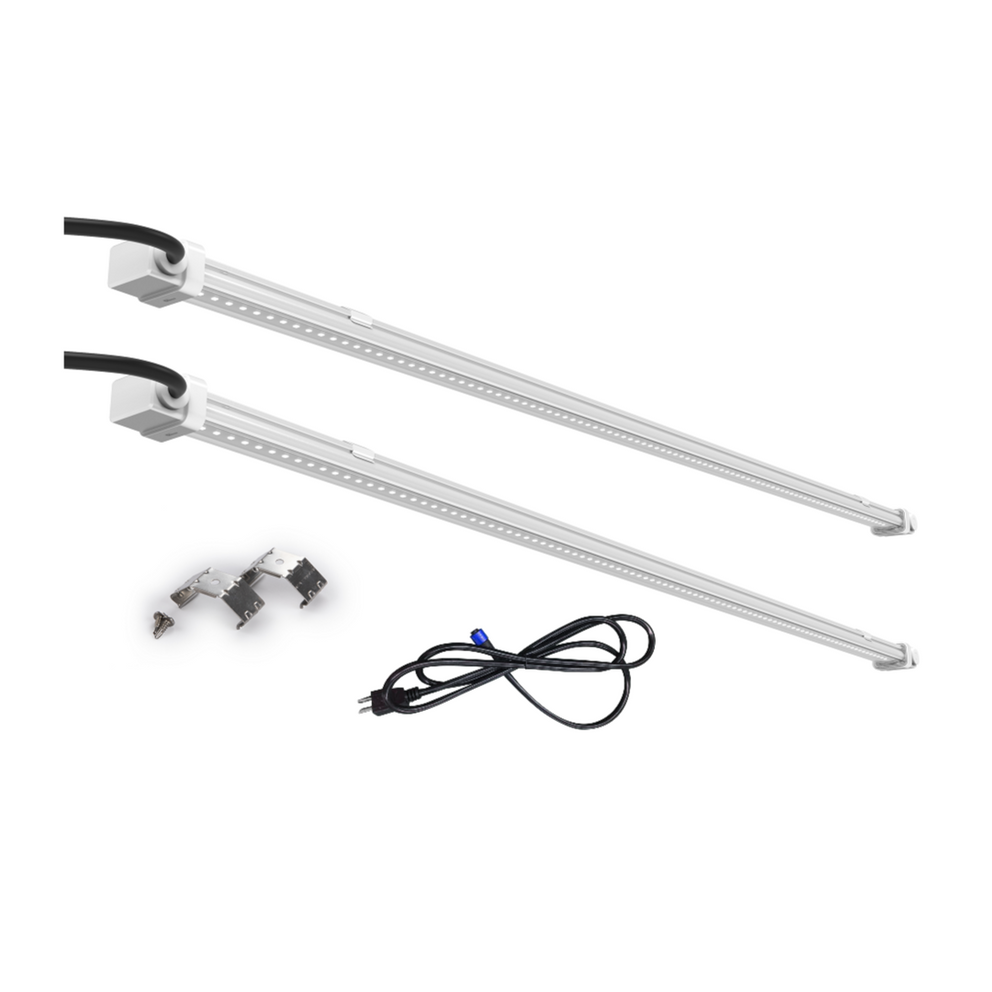 FGI
FGI Flexi-clone LED grow light for seedlings...
$ 68.00
$ 99.00
The FGI Flexi-Clone LED grow light is designed to give plant starts the best chance of succeeding. Featuring quality made LED lighting for a reliable outcome, this light is perfect for seedlings, clones, and plant starts. Our 4' long grow bars are able to interconnect, or can be used independently.  Link additional bars side-by-side to increase photosynthetic light intensity. Two bars are perfect for new starts. Four bars work well for younger plants or more light sensitive varieties.  Combine up to 30 Flexi-Clone bars on a single 120/240V plug to run your entire plant propagation area without needing dozens of sockets.  High quality all aluminum construction. Solid state, fanless and driverless design.  LED diodes protected from moisture with a conformal coating. Accidental spray won't affect them at all.  3 year warranty against defects.  Water resistant light to light connectors. Clip on hanging bracket included.  Compare the Flexi-Clone to other plastic seedling lights and you'll see why people choose the flexi-clone system instead. Here is our grow light spectrum compared to the sun and other lighting styles. You can see why plants thrive under our grow spectrum. We more closely match natural sunlight.  The FlexiClone system is fantastic. Your plants will love this light.  Sold as as set of two bars, use two of the Flexi-clone bars to cover 4' x 2' of area.  We stand behind our lights with a 365 day money back guarantee.   Unboxing and Installation Video  ~Technical Specs~ Product FGI Flexi Clone LED Grow Light (set of two) Light Source LED Spectrum 4506 CCT Warm White / Neutral White mixPhotosynthetic Light MeasurementsPPF Output* 69 umols/ms PPF Efficacy* 2.30 Umol/sec/wPPFD @ 12" 115 Umol/m²/sFixture coverage ( max intensity / max uniformity )* 4' x 1' per LED / 4' x 2' per set of two LEDsPhotopic Light MeasurementsLuminous Flux* 8,229 LumensLuminous Flux Efficacy* 136.2 Lm/wIlluminance @ 12" 32,069 LuxOtherInput Power 25 watts per barInput Voltage 100-277VAC autosensingDimensions 47.2"x 1.89"x 1.3"Weight 1.1 lbsOperating Temp range 32 F - 104 FThermal Management PassiveRecommended Mounting height 12" for one set. Add additional bars to increase light levels and mounting heights. Dimming / Tuning No Product Warranty (see our warranty here) 3 years
FGI
FGI Flexiclone LED Power Cord
$ 12.95
$ 12.95
110V power cord for operating the FGI Flexiclone LED bars individually. One cord comes with every set of two Flexiclone LEDs. This cord allows for separate operation of each LED bar. 
SAME DAY FULFILLMENT
(Orders before 11am pst)